Winter symbolizes sizzling fires, piping hot food and a pleasant weather and this makes winter the perfect season to have your wedding. But your wedding can be incomplete if you don't take some inspiration from this lovely season and add a wintery touch to your make up. So here are some interesting winter make up ideas for our lovely brides to be.
Ditch red, go for pink

Red may be the traditional wedding colour but modern brides don't really mind experimenting. So this winter, ditch red and go the pink way. Baby pink lips, a rose blush and ethereal silver eye shadow can make a bride look stunning.
Silver eye shadow in particular can create beautiful smoky eyes which will give you a 'naughty and nice' look. Be careful when you choose the shades, though. Baby pink and pearly silver look good on brides with light skin tones, whereas those with darker complexions should opt for denser hues like fuchsia and metallic silver.
Earthy tones


Bronze overtones with a dash of gold look fabulous on brides with wheatish complexions. If you don't mind trying out a different look, you can combine brown and pink hues to create smoky eyes with a twist. You can then paint your lips with a beautiful prim rose colour and make them look absolutely gorgeous. Orange lips look great too, but use it only if you think you can carry off this bold look with élan. A mix of matte beige and brown topped with sheer lip gloss can make you look really delectable.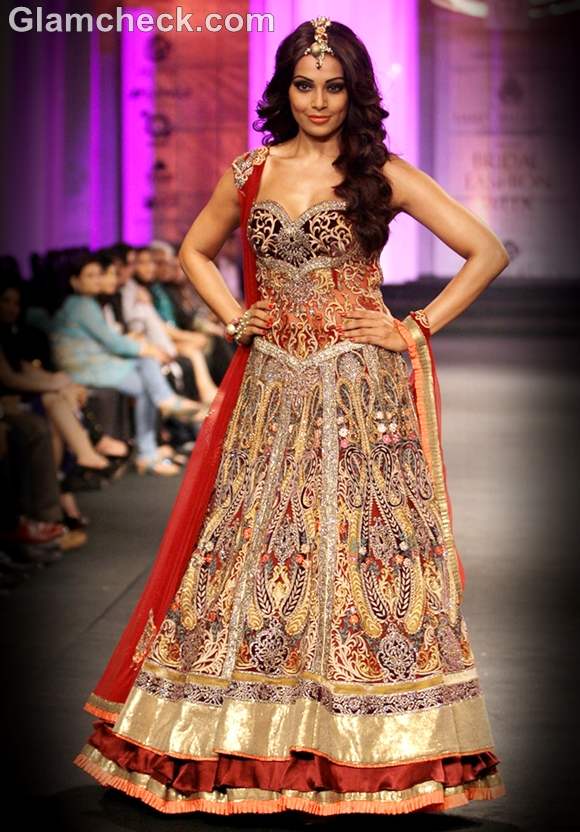 Cherry Red


Brides with a fair complexion can go for cherry red lips and flushed cheeks. The idea behind flushed cheeks is to make the bride look as natural as possible and it is not always necessary to use make up for this look. Many brides prefer pinching their cheeks to make the look as natural as possible or maybe rub little beetroot juice on their cheeks. Peach blush looks good on brides with a fair complexion too.
The Angel look


If your bridal dress is white, then you can go for the angel look. Pick up blue, white and silver shades to create a dramatic look for your eyes. Keep your lips natural and dab them with a sheer lip gloss or if you wish, you can opt for shimmery berry shades as well.
Don't Make these cardinal mistakes
Never use a lip liner. It went out of fashion eons ago and it is quiet unlikely to make a comeback.
Don't go for dark eye shadows for your wedding. It is a party look and it belongs to wild parties only.
Don't apply shimmery foundation on your face as it will make your face look wet in the wedding pictures.
Always try out your look a month in advance. Click a few photos and if you think that a particular shade of lip stick is looking weird on you, then it probably is.
Don't follow fashion trends blindly. Go for only those colours which suit your complexion.
Waterproof make up is a must. A wedding is an emotional time and you will not want your make up to mess up your face on D-day.
Take care of your skin and let it glow naturally. Minimize make up if you have naturally flawless skin. Hydrate your skin with a good moisturizer before you apply make up.