Indian weddings have always been a colourful extravaganza. However, the bride is usually traditionally dressed in combinations of red and gold. With the rise of fashion weeks across the country and designer bridal wear, traditional colours have been married with bold, contemporary colours to make the bride feel more like a princess than ever. While reds and golds will never go out of fashion, here are some of the hottest wedding colour trends for this year.
Purples and Pinks
Peacock colours of deep purple and teal along with shades of pink, particularly hot pink, are fast gaining popularity among brides-to-be as the colours of choice. Combination of purple and red makes for a bold "here-comes-the-bride" statement. Hot pink and gold or pink and red are sizzling hot combinations on the bridal circuit right now.
Imran Khan's new bride Avantika Malik looked gorgeous in a pink and gold lehenga with red border on their wedding reception.
Rich emerald green has always been popular in combination with red and gold. Green suits the Indian skin tone and photographs really well too. Navy blue has been making an appearance lately on brides wanting to look contemporary. Blue and gold is a classic combination, whereas blue and red looks absolutely stunning.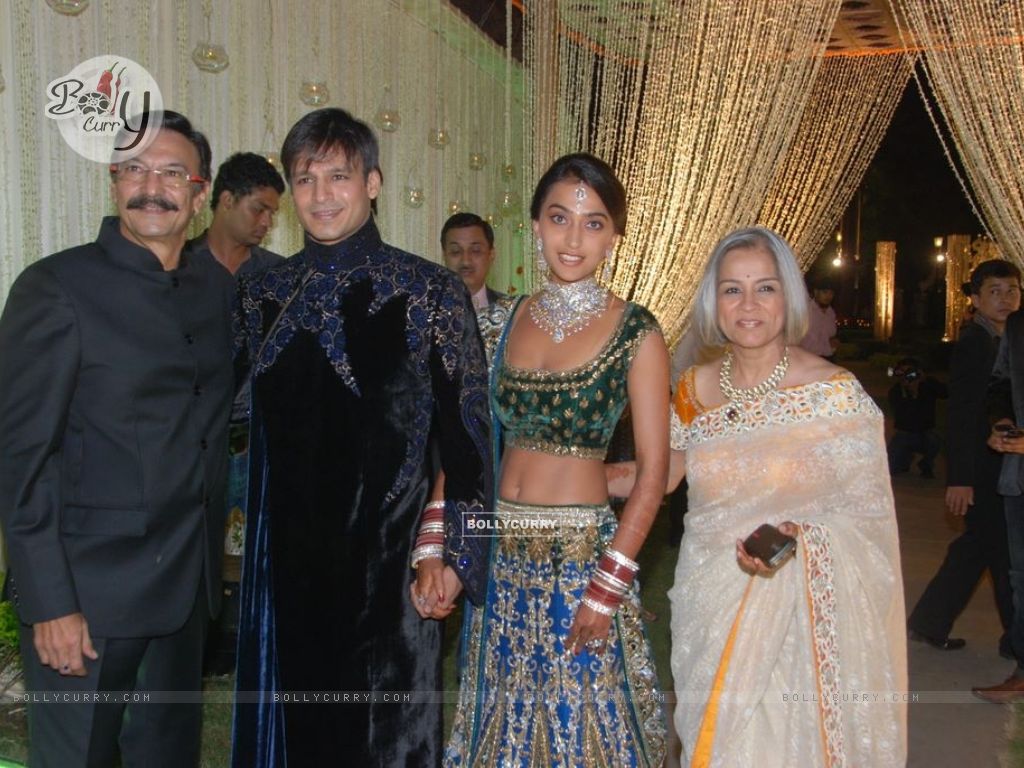 Superstar Rajnikanth's daughter Sandhya changed into a beautiful leafy green and gold sari during her wedding ceremony while Vivek Oberoi's bride Priyanka wore a gorgeous blue lehenga with a green velvet choli for their reception. More recently, Neelam Kothari wore a deep green velvet lehenga with pink and gold floral motifs for her grand wedding reception after a quiet wedding ceremony and Avantika Malik wore a deep blue velvet and gold lehenga with peacock motifs for her engagement to Imran Khan.
Oranges and Yellow
Orange and yellow are versatile colours as they both have a shade palette ranging from bright to earthy. When the right shade is selected, they complement any skin tone. They make your skin glow and your wedding pictures shine. Orange and pink is a hot combination, going well with traditional gold jewelery.
Shades of yellow can add a dash of colour to any bridal outfit. These are also considered to be auspicious colours, giving even more reasons to wear them on your wedding day.
White:
Make-up and Décor
The colour trends need not be only for the bridal wear. Get gorgeous with hot purple eye make-up and lipstick or look like the perfect blushing bride with pink make-up. Brighten up the décor with yellow, lime green or sunny orange. Make it luxurious with rich purple-coloured invitations and deep blue décor. Mix in hot pink bangles with reds, golds and oranges for a sparkly display.
Whether going traditional or contemporary, make your wedding your own by choosing colours that complement your skin tone and your personality.